When it comes to a blog, getting asses in seats isn't enough
It's no secret that a hot-topic blog can bring numbers to your eCommerce site, but how do you turn them into paying customers without desperately screaming "sponsored content"? Customers are becoming more and more savvy online, and can detect the stench of a cheesy ad from a mile away, so you'll need to draw readers in a way that's truly beneficial for them and feels natural. Done well, you'll provide a great user experience while generating new revenue for your eCommerce store. 
By publishing content to your blog, you position your company as a knowledgeable and trustworthy subject matter expert by providing valuable content that speaks to their needs and interests. Your blog posts may not even be directly related to your products — in fact, they can be more effective when they aren't. But these pages can still be used as an opportunity to turn passive readers into active customer by showing the right products to the right customers at the right time. 
Next generation AI for the modern customer
AI works in real time and starts learning as soon as a visitor clicks on your site, so you're immediately able to offer the smartest product recommendations specifically tailored to each user. These recommendations are based on how a user is interacting with different blog posts as well as if they are a returning customer and have interacted with your products in the past. 
How placement makes all the difference 
Deciding where product recommendations should go within a blog post is entirely up to you, but it's important to understand how different options interact with reader behavior. 
Front and center on your homepage — you can't beat the efficacy of capturing a user from the moment they land on your blog.
Running them parallel allows for the eye to naturally drift towards recommended products as the reader is learning about a topic related to the items being served.
A footnote at the bottom does the trick in drawing someone who's become increasingly invested enough to have finished the entire article and will likely be more easily converted to a customer.
Proto's Customer Spotlight
Pure Spectrum is a Health + Wellness retail store that sells high-quality hemp derived products. They have a blog on their site that offers education and helpful tips for their target readers. Since integrating with Proto AI, they now offer personalized product recommendations that directly correlate to their articles, driving traffic to their storefront. Check out how beautifully the UI integrates with the rest of the page below: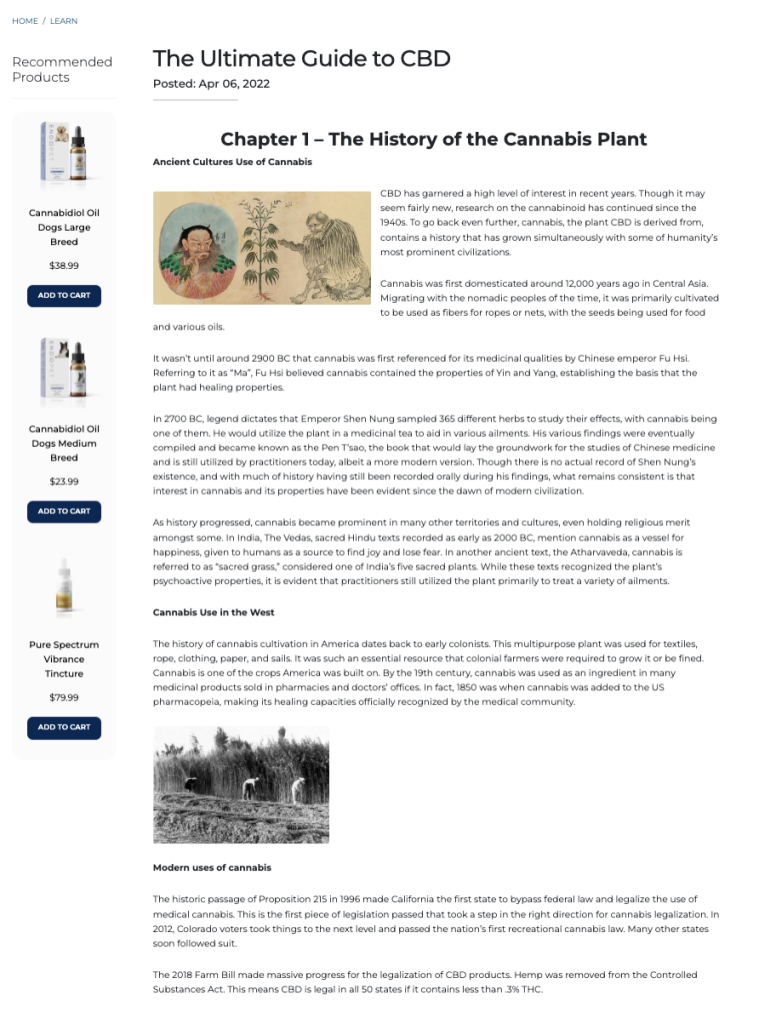 The product recommendations blend seamlessly with the blog they're reading, helping the viewer gain new insight, while Pure Spectrum organically gains a new customer. 
The bottom line
Product recommendations are nothing new, but it's how they're made and where they're placed that matters the most to increasing revenue and brand loyalty. If you're going to take the time to invest in polished blog content for your readers, you'd be doing yourself a disservice by not optimizing their traffic and maximizing the time they spend on your site. By utilizing quality AI, you can serve tailored recs for every hit your site gets, and it doesn't go unnoticed. Customers appreciate personalized journeys and taking the extra step is sure to drive sales and impressions.