The Complete (AI)diot's Guide to BFCM
Changing shopper behaviors mean businesses are harnessing the power of AI to level up.
This Black Friday — Cyber Monday, you can too.
The Complete (AI)diot's Guide to BFCM:
How To Leverage AI to Drive Exponential Sales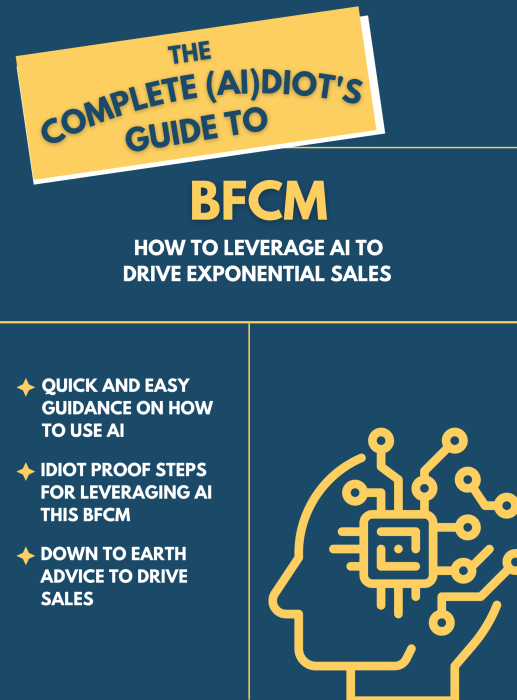 Artificial Intelligence (AI) refers to the simulation of human intelligence in machines, and it is being used across eCommerce.
2023 marks the first BFCM in the new era of AI, transforming the way consumers shop online embracing AI-driven technologies in your business is crucial.
Predicting customer needs, tailoring offers to specific segments, optimizing internal logistics and dynamically adjusting prices — think AI-enabled for peak profitability.
Integrating AI to enhance BFCM sales will be a game-changer this season for businesses. AI tools offer unparalleled insights into retail operations, enabling businesses to optimize stock levels based on past trends and future forecasts. With insights from Proto AI, Triple Whale, Octane AI, MESA, Bemeir, PrettyDamnQuick, Webeyez, Littledata, and Malomo — this guide will break down how you can utilize this technology to drive sales, increase revenue, and meet evolving customer needs.
This will help you:
Leverage AI to drive exponential sales this Black Friday and Cyber Monday holiday.
Gain the insights needed to unlock success with AI-powered tools, where to get started, and the potential impact on customers and sales.
Now, download the guide and let's dig in!