It's no surprise why Shopware is the ecommerce platform trusted by 50K+ merchants worldwide.

If you are already on Shopware or looking to migrate — Shopware has expanded to North America and their solution is now available to merchants globally.

This strategic partnership with Shopware to build and grow ecommerce channels together makes AI personalization more accessible to all merchants. For all shops on the platform, Proto AI Commerce is the solution to deliver on-site personalization to drive AOV and improve the overall customer experience. 
"These partnerships open a door to new opportunities, which allow us to expand the reach of our services to a wide variety of merchants," said Justin Williams, Agency Partnerships, North America at Shopware. "The integration of our robust ecommerce solutions with the best-in-class expertise of our partners means that merchants can be confident that their next ecommerce dream can become a reality."
Ready to get started? Proto AI's next generation AI solutions increase revenue by 30% and our extension is now available in the Shopware Marketplace for all merchants on the platform. 
Integrate faster with your Shopware shop
Our extension with Shopware, Proto AI Commerce, makes it quick and easy to deliver AI powered personalization on your website. With our seamless extension, you'll start to see the impact on both top and bottom line results instantly.

Installing the extension is easy, Shopware merchants simply need to add Proto AI Commerce to their shopping cart and install on their ecommerce site. After completing chekcout our Customer Success team is available to ensure placement across your site is quick and easy, 

Our dedicated team is available tackle the entire process for you, from installation to placement we want to ensure that adding Proto AI to your site is as simple as it should be. Should you choose to complete the process yourself, we'll make sure to share a detailed guide and instructions to configure the placements yourself.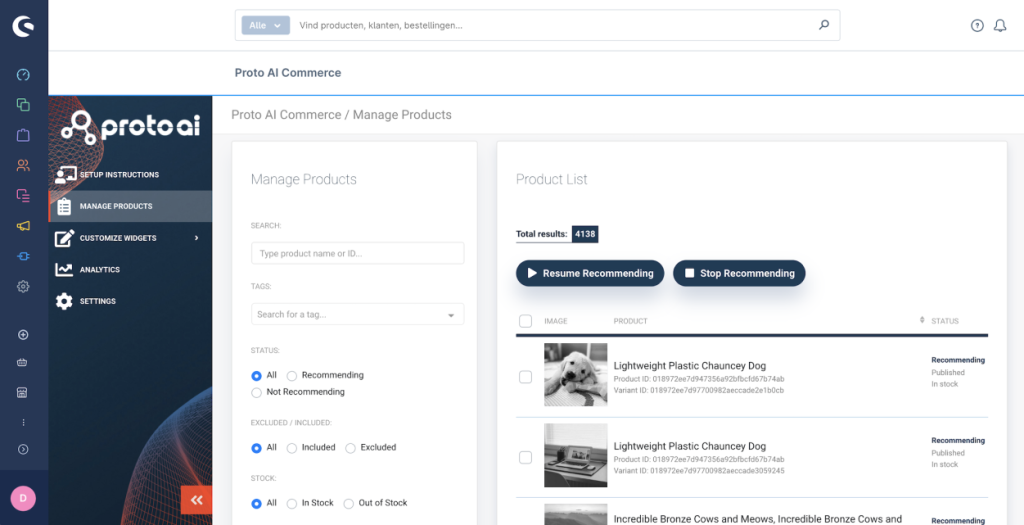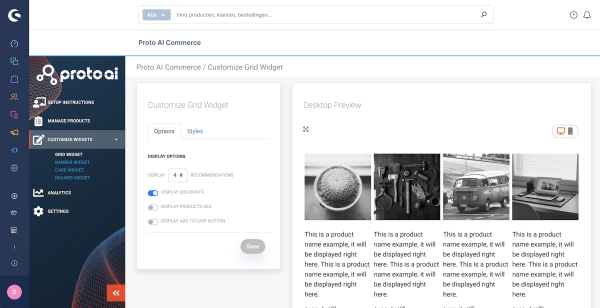 Delivering personalized journeys and experiences is now easier than ever with Proto AI. The ability of our AI to continuously analyze, improve, and tailor user experiences for top-line revenue growth creates an unmatched experience for users.

Using unbiased observation, Proto AI Commerce observes, understands, and then takes action in real-time. This means quicker results—see results in days rather than weeks or months with no maintenance required.
Getting started is simple, from the Shopware Store you can add the Proto AI Commerce extension to your site. Once complete, our team is available to walk you through the process of integrating on your site or access the set up guide to implement on your own.
After adding the extension to your site, we'll share best practices for placement to optimize results and ensure you see success.
Proto AI's partnership with Shopware provides merchants globally with access to our next generation AI solutions. Using real-time shopper behavior to create personalized user experiences for the global ecosystem of Shopware merchants, Proto AI Commerce can be seamlessly integrated into a Shopware shop. Transform your business, get started on Shopware today!